Are You Optimizing Your Business for Voice Search?
Over half of all searches done on mobile devices are done by voice. This means that if you're not optimizing your content for voice searches, you are missing out. These are our top 4 pro tips on how to do it.
by Catie Leary
More than half of all searches come from mobile devices, and at least 20 percent of those queries are initiated by voice. With those numbers projected to increase as more people tap into micro-moments, it's safe to say that we're only seeing the tip of the voice-activated iceberg. That's why it's critical to get your business on board now.
Optimizing your business's online presence for voice searches involves tactics that are somewhat different from the ones you'd find in the typical SEO strategy. That's because voice search queries are not the same as the ones users type on their desktop or mobile device. Voice searches tend to be longer and more conversational since the user is typically interacting with a virtual assistant such as Siri, Alexa, or Google. They also tend to be complete questions or demands.
For example, if you wanted to research pottery classes in your area, you might simply type "pottery classes near me." But with a voice search, you'd probably say something a bit more conversational like "Siri, where can I take pottery classes in my city?"
Want to keep your business ahead of the curve? Here are a few tips for optimizing your digital presence for voice searches.
1. Create content that answers questions about your business
Since so many voice searches are in question form, you need to anticipate the needs of your target audience and create relevant content based on those needs. Your content can come in many different forms — it can be blogs or articles, or they can be simple entries on your FAQ page. For best results, we recommend creating individual pages for each FAQ, which can then be linked on a single parent page alongside all your other FAQs.
Looking for good question-based content ideas? The first thing you need to do is determine what your target audiences are asking about your industry or your products and services. Answer the Public is a handy tool to get you started. Simply input a keyword related to your business or industry, and it will spit out a bunch of questions based on common search engine queries. Here's an example of what it looks like with the keyword "hotels."
You can also zero in on the type of questions you want to focus on, including: Are, How, Why, When, What, Who, Which, Where, Can, and Will. Here's the 'hotel' query visualization for 'Where' questions:
2. Claim your Google My Business listing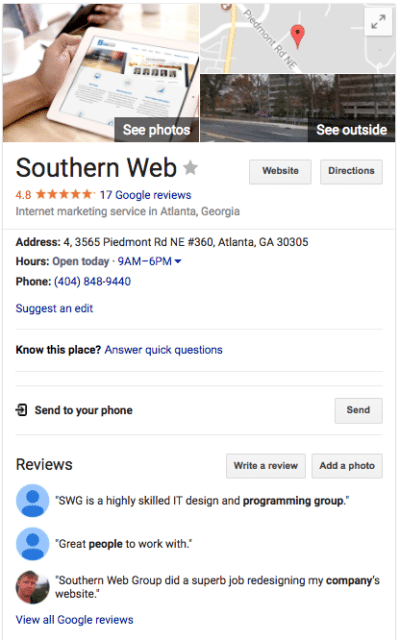 Did you know that 50 percent of local mobile searches by a consumer lead to a store visit in a day? That's huge! If you want to optimize the local findability of your business, claiming your Google My Business listing should be a number one priority.
Google My Business allows businesses to manage and customize the listing that shows up when users search for your business or relevant keywords about your business. At right is the Google My Business profile for our agency.
Google automatically creates your listing, which business owners can then claim through a special verification process. Once you are given access to your Google My Business account, you can control all the information and imagery related to your business, including your business description, address, hours of operation, website, contact information, and customer reviews.
Neglecting to provide this kind of information could be the deciding factor for not visiting your business — especially if you have plenty of competitors who do provide this information.
3. Make sure your website is mobile-friendly
The vast majority of voice searches occur through a smartphone or tablet, which is why it's critical that your site be mobile-friendly. If your site is not mobile-friendly, Google will penalize you in search rankings. Sites that are mobile-friendly typically share three core characteristics:
They load quickly. There are quite a few ways to keep your site up to speed, but the most impactful things you can do is optimize your large images, eliminate render-blocking Javascript/CSS files, and leverage the power of browser caching.
They're easy to navigate and read. Making your website accessible is not only a disability rights issue — but it's also just a smart business move since Google favors accessible sites.
They feature a responsive design. This principle provides an unparalleled user experience across different devices and resolutions, which helps with page speed and accessibility. Below is an example of a mobile-friendly, responsive site design:
4. Give your site a leg up with structured data
As voice-activated search technology advances, the more information you provide on your site, the better. No, that doesn't mean stuffing your site with unnecessary keywords. What it means is leveraging the power of hidden structured data, which can provide Google with lots of helpful information without compromising your user experience.
What is structured data? According to Google's definition, "structured data is a standardized format for providing information about a page and classifying the page content; for example, on a recipe page, what are the ingredients, the cooking time and temperature, the calories, and so on."
You can find structured data in title tags, meta descriptions, internal links, anchor links.
Structured data is important because it helps Google understand the context and structure of a page and, most importantly, determine whether it contains high-quality content.
It's also responsible for creating special enhanced search results, such as the image-based recipe results (like the blueberry pie recipe results above) or those featured snippets you sometimes see at the top of search results pages.
Voice search is the future of SEO
With more and more people using their mobile devices as virtual assistants, voice search optimization is only going to become more important as time goes by. Will your business be ready?
---
Is your site optimized for voice search?
At SiteCare, our dedicated team takes the mystery out of SEO and content generation. Get in touch with SiteCare to discuss our seo optimization services