The Best WordPress Plugin for Forms
A search for "forms" in the WordPress plugin directory easily returns thousands of results. That estimate doesn't even include the premium options available. Read more as we share our recommendation for the absolute best WordPress plugin for forms.
by Ryan Sullivan
At the time of writing this, a search for "forms" in the WordPress plugin directory returns 980 results. And that doesn't even include premium options. Judging by the title of this article, you've probably caught on that I intend to share my recommendation for the absolute best WordPress plugin for forms.
You know how in the movies it's really easy to pick locks or guess computer passwords? I really could have used some movie magic to work through this massive list in order to crown the best WordPress forms plugin.
Unfortunately, I didn't have a Hollywood budget for this particular article so I put in the work instead. I was tempted to do what a lot of other articles on the internet have done — give you a listicle of the top 800 forms plugins, but I don't want to waste your time. You're busy and you need to walk away with a recommendation today. I'm going to deliver. I won't let you down.
What Do I Need From a WordPress Forms Plugin?
Let's start at the basics by talking through what exactly we should expect from a forms plugin. While scouring our customer emails here are the primary features that I saw people asking for:
We'll use this list of eight criteria to create a shortlist of plugins to get us one step closer to crowning a best WordPress plugin for forms.
Quick Sidebar! Why Making Recommendations is Hard
Before we dig in, I'm going to take a quick moment to share some quick facts about recommendations:
Everybody makes them
Many of them are uninformed
Many more are driven by outside influences like affiliate revenue
It's almost impossible to rule out some sort of bias
Recommendation mileage will always vary based on your specific needs
The bottom line is that making recommendations is a tough gig, but I've tried my best to craft this list in a way that puts WordPress users first. Now that we've cleared that up, let's get down to it!
The Starting Six
Obviously, evaluating 980 plugins is a bit much, so we'll need to narrow things down a bit.
That's why I'm going to eliminate 974 potential entries into our competition simply based on my personal experience troubleshooting thousands of WordPress websites over the years. As a WordPress expert, I know which plugins are reliable at scale and have a good track record of regular updates and support.
All of the following are very solid options even if they aren't crowned "the best" in the end:
Now that we have our candidates, let's evaluate each one on the features we outlined earlier.
1. Quick and Easy Forms Creation
How easy is it for users to actually create forms with these plugins? Let's find out!
Contact Form 7
Contact Form 7 is an extremely popular plugin with over 5 million installs in the WordPress plugin directory, but its janky interface for configuring the plugin and creating forms immediately disqualifies it from contention:
In contrast, the other five forms plugins have drag and drop interfaces for simpler forms creation.
WPForms
Of all of the form builders tested, I found WPForms (above) and Gravity Forms (below) to have the most intuitive interfaces for me.
Gravity Forms
Formidable Forms
Ninja Forms
Ninja Forms has a beautiful and innovative interface, but I struggled with some basic interactions.
For example, it wasn't clear to me that I needed to hit the target area directly below the previous form field and kept dragging fields to the left and didn't know why they wouldn't "stick" — see below: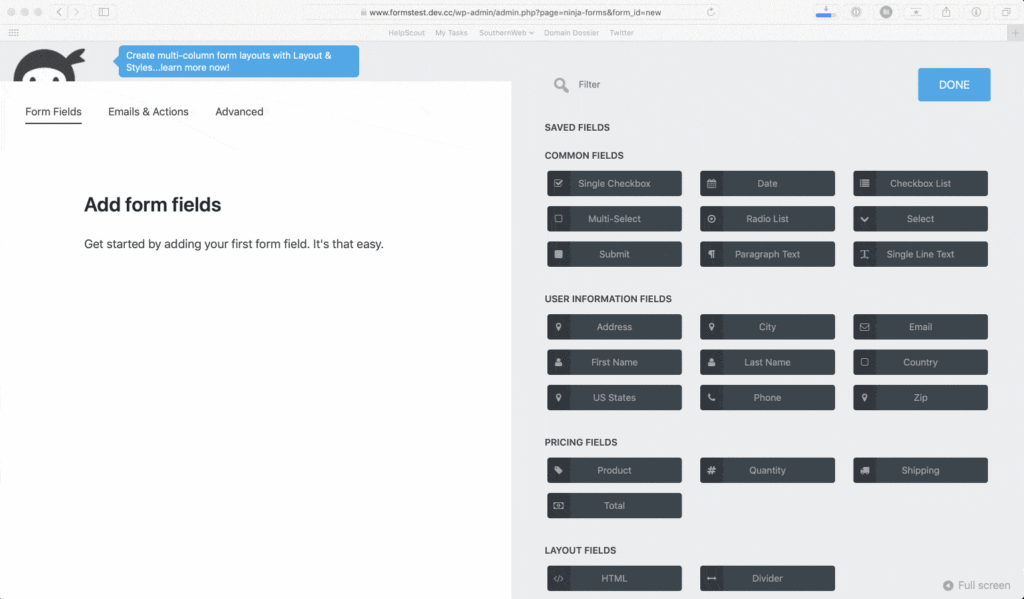 Caldera Forms
Caldera Forms was a bit of a struggle to use, even with the drag and drop interface available. They have included some tooltips for creating forms when first installing the plugin, which is a nice touch. But I still found it difficult to use. I'm sure with more time I'd start to get the hang of it!
Which form plugin offers the quickest and easiest form creation process?
WPForms has a slight edge over the competition when it comes to quickly creating forms for your website
---
2. Common Field Support
All of these plugins have a plethora of fields available and easily cover the "common fields" requirement.
Caldera Forms – 32 fields in free plugin (including eCommerce fields)
Ninja Forms – 30 fields in free plugin
WPForms – 8 fields (28 after upgrade to premium)
Formidable – 13 fields in free plugin (33 after upgrade to premium)
Gravity Forms – 34 fields
If sheer volume of inputs is what you seek, Caldera Forms leads the pack for free variants, and Gravity Forms has the most overall. All of these plugins can have additional field types added through upgrades and add-ons.
The other thing I'd mention is that not all fields are created equal. Formidable, for example, includes a full quiz score module as part of their premium upgrade. So rather than paying attention to how many fields come bundled with each question, ask instead if the fields meet your specific needs.
At any rate, all of these plugins have a whole slew of ways for website visitors to submit their information.
Which form plugin offers the greatest common field support?
Gravity Forms has the most (and most useful) options available, so they're the winner here.
3. Support for File Uploads
Allowing users to submit files to a website is a very common request but also a problem that's much more complex to solve than simply adding a field to a form. There are many more considerations to make from both a security and practicality standpoint that many people overlook.
What if someone tries to upload a malicious file through a form?
What if the server doesn't have much disk space?
Should you limit the size of files that people can upload directly to your storage?
And so on…
Because of this complexity including the ability to upload files typically doesn't exist as free option for any of these plugins with one exception, and they all have their own unique approaches to solving this problem.
Formidable – File Uploads field available after upgrade
Ninja Forms – File uploads available via premium add-on
Gravity Forms – File uploads available
WPForms – File uploads available after upgrade
Caldera Forms – File uploads are included!
Caldera Forms is the only free option that bundles basic upload functionality in their free product.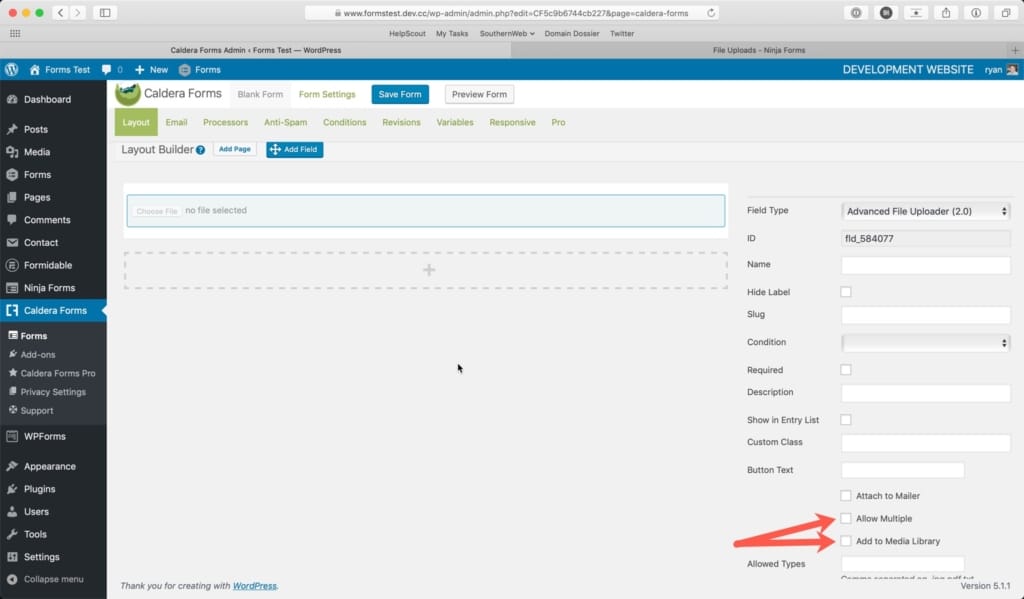 Both Ninja Forms and Gravity Forms allow for uploading to external services like Dropbox or Amazon S3. Aside: This is the method I would recommend. It helps protect you from malicious attacks.
Which form plugin offers the best support for field uploads?
Caldera Forms wins for including this functionality for free. However, we'd like to acknowledge Ninja Forms as a very close runner up for its third-party upload support.
4. Protection Against Spam
This could be an entirely other article. In fact, we've already written an article about how to keep spam out of the inbox when sending an email campaign. But in this case we want to play defense and keep spam from inundating our servers and inboxes.
Forms can be a soft spot in your web defense, and many people choose to bypass them altogether and simply use email. But the pros of using forms far outweigh the cons, especially when we have the technology to protect against spam submissions. Here's how each of our competitors performs from a spam prevention standpoint:
Which form plugin offers the best protection against spam?
You can tell that all of these plugin authors think a lot about how to prevent spam for their customers. However, I give Formidable Forms the trophy for going the extra mile and integrating with two different third-party spam prevention services to keep their website owners protected.
5. Reliable and Customizable Email Notifications
Form entries are completely useless if we never find out that they were submitted. Email deliverability became such a problem with our customers that we began providing SendGrid email service to ensure reliable delivery no matter where the website is hosted. For free. It was less expensive to pay for SendGrid for our entire client base than it was for the human time and frustration cost of our team.
All of these plugins have somewhat similar methods for adding and configuring email notifications, and many of them can send notifications to lots of external services through extensions and add-ons.
From a simplicity standpoint Ninja Forms really stood out from the pack for me here. Most of the other options required navigating to a separate settings screen to configure "Confirmations and Notifications". To this day I still have a hard time discerning the different between a confirmation and a notification without a slight pause.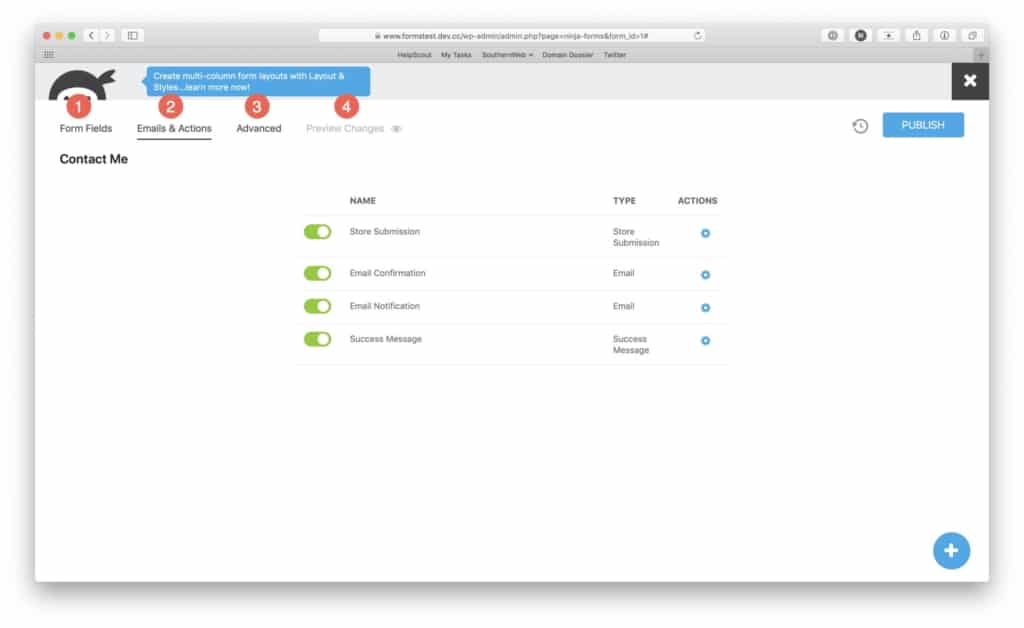 Ninja Forms calls these "Emails & Actions" and integrates them directly into the form setup flow. Not only do I prefer the Emails & Actions labels (it's a more clear distinction to me), but including it in the initial setup means that these actions aren't an afterthought. We see these abandoned all the time, and then customers can't figure out why they aren't finding out that someone signed up for their newsletter.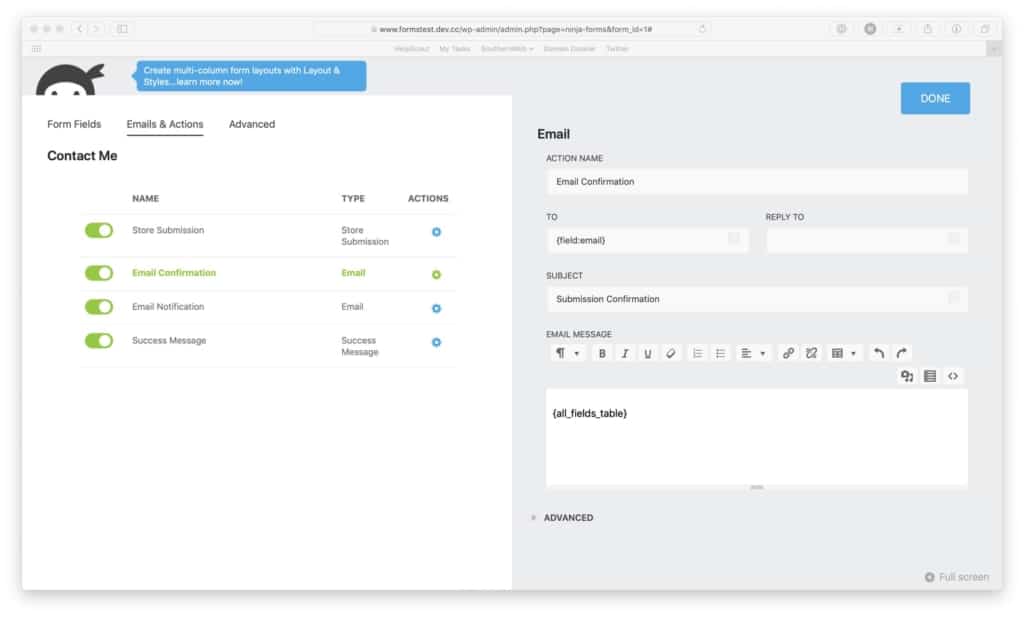 Which form plugin offers the most reliable and customizable email notifications?
All of these plugins have solid frameworks for adding and configuring emails and confirmations, but we believe Ninja Forms really shines in this area.
6. Reliable Delivery
This isn't necessarily something that needs to be handled by the forms plugin itself. It's likely something that should be implemented site wide, but that hasn't stopped these plugin authors from coming up with solutions.
Which form plugin offers the most reliable delivery?
Ensuring email delivery isn't the job of the forms plugin, but with three separate email delivery service integrations, Gravity Forms wins this category.
7. Add-ons to Extend Functionality
All of these forms plugins approach the add-on model a little bit differently. Ninja Forms and Caldera both have a library of single-purpose add-ons you can buy in piecemeal as you need them. WPForms has a "get all the goodies or not" model where upgrading to premium unlocks lots of powerful features. Gravity Forms and Formidable Forms both offer different feature sets in distinct premium tiers. For example, Basic, Pro, and Elite from Gravity Forms.
Suffice it to say that with premium upgrades and add-ons, these forms plugins can become extremely powerful software ecosystems.
Need to take payments for a class you're offering? Done.
Need to accept guest posts to your blog but don't want to give people logins? Done.
How about getting a Text or Slack notification when someone completes a form on your site? We can do that too.
Your imagination is more or less the limit when it comes to creating full interactive workflows on your website. Gravity Forms even has a commercial ecosystem outside of its ecosystem with products like Gravity PDF and GravityView.
WPForms – 20+ Premium Features including their Conversational Forms Add-on. That single add-on replaces a + per year service like Typeform.
Caldera Forms – 27 premium add-ons are available through their add-on library. Interesting add-on includes the ability to sell Easy Digital Downloads products with Caldera Forms.
Formidable – 30+ premium feature add-ons in their Elite package – As far as I could tell, Formidable was the only plugin with a Hubspot integration.
Ninja Forms – 42 premium add-ons gives Ninja Forms a huge catalog of single-use forms additions. It also has some really interesting CRM integrations with OnePage, Capsule, and Zoho.
Gravity Forms – 43 premium add-ons gives Gravity Forms the largest catalogue of premium adding of any forms builder. Its Survey and Poll add-ons are extremely robust and bring entirely new feature sets to a website.
There's a good deal of overlap across all of the add-ons from one plugin to another. It's interesting to watch how they differentiate and add new functionality or services to position themselves for success.
Which form plugin offers the best add-ons for extended functionality?
Gravity Forms has the largest add-on library (by a very small margin) and it boasts a surrounding ecosystem of products like GravityPDF and GravityView.
8. Gutenberg Compatibility
I added this criteria not long before publishing this post because it's 2019 and WordPress 5.0 has been out for over three months now. Even though it's been released for a while, I still suspected some potential issues with these forms plugins and the new block editor in WordPress.
I have to say that generally speaking I was pleasantly surprised. I didn't know how well-integrated these plugins would be with the new block editor in WordPress, but only one didn't support Gutenberg by default.
This has to be a four-way tie because all of the implementations are very similar (from a user standpoint) and there aren't any glaring omissions. Gravity Forms has to be left out of the winner circle here for now because it requires additional setup for compatibility.
Which form plugin offers the greatest compatibility with Gutenberg?
It's a four-way tie! Formidable Forms, WPForms, Caldera Forms, and Ninja Forms are all natively compatible with the Gutenberg block editor.
And the winner is… Gravity Forms! 🏆
Overall, I believe that Gravity Forms is still the best WordPress forms plugin for most people. This plugin came out on top in multiple categories and are highly competitive in every place except for Gutenberg compatibility, which is solved easily.
Reflections on the future of WordPress form plugins
One thing I discovered during this evaluation is that the race is closer than it's ever been. I'm incredibly encouraged by the progress in this space over the past few years. There's clearly some heavy competition, and the end result is more powerful and attractive tools for all of us as customers.
Also, I don't typically like to make predictions, but we need to acknowledge WPForms, which has more or less exploded onto the scene. If they can maintain the trajectory they're on now, I wouldn't be surprised if they get the crown the next time we revisit this topic.
That said, you really can't go wrong with any of the options we compared in this post, so when choosing your plugin, start by asking where your values lie:
Are you looking for something free and easy for a hobby project?
Do you need a very specific third-party integration?
How important are forms to the success of your business?
Where do you see the company behind the plugin in the next 3, 5, 10 years?
What do you value in your WordPress forms plugins? Any that you really love to use that I didn't mention? Anything else I missed? Let's have a conversation in the comments!